Applications are Closed.
Please be informed that
Art Squad PH is no longer accepting applications
indefinitely starting September 10, 2023.
Thank you.
Join the Art Squad PH Discord Community!
Art Squad PH is looking for Gen Z Filipino Artists 💛
Art Squad PH is an independent artist organization in the Philippines.
We're a community of Filipino artists and animators. We have a ** Discord server** with over 100 members and we're accepting new artists! If you're a local artist ready to make new friends, share knowledge about your craft, and help each other grow as artists - all in a positive, welcoming, and fun SFW community - then we can't wait to have you here!!We have a diverse group of members on the server. We're not exclusive to a specific fandom, and our members are either art hobbyists or taking art-related courses.

Art Squad's Cool Features!
In our Discord server, you can share your art, collab with us, and meet cool artists!

We host frequent art and gaming events!

Chill with us in fun voice chats!

Access our library of helpful tips & resources for art!

Cool bots other features!
Art Squad Discord Vouching System
To keep the community safe & fun, the Discord server is private.

There is an Invite Queue / Waitlist

We invite 2 new members every other week (every 14 days).

Members are invited based on the most "vouches"

The community helps our Moderators to review each application faster.

Why Is The Server Private?
The server is private mainly to secure our community from hackers or raids.

As an independent organization, we want to make sure that we can grow at a manageable rate.

We want to have time to get to know everyone. Inviting members weekly makes it more special to us. Even if the server is private, we're always excited whenever we have new members! 💛

Terms Before Applying
✅ By Requesting to Join, You Agree With The Following:
Please don't expect or wait for an invite. Answering the Google Form only gives you a chance to enter our Discord server. Please understand that we can't guarantee that everyone will get invited. We hope you understand.

Your username will be visible to server members. Your age won't be displayed.

Joining our server means that you'll be part of the Art Squad PH community, but not as part of the Main Art Squad members (we're not taking requests to join).

You may get removed from the server if you break our rules.

You are free to leave at any time.

DO NOT CONTACT any Art Squad member to ask for vouches.

You need to wait 6 months before you can re-apply. Do not send duplicate submissions. If you change your username, you need to inform us via DM to have your application updated.
Requirements to Join
You must be ANY of the following: Artist (any medium), animator, YouTuber, photographer, writer, or something related.

Must be at least 14 years old.

Must have a PUBLIC art account.

Must have at least 1 art-related post within the last 30 days.

Must be willing to use Discord and be active on our server.

If you're an NSFW artist, you must have an 18+ Warning in your social media bio. UPDATED 12/9/2022
Moderators review applications based on how you interact with others, and if there is any activity on your account. Skill level, portfolio, or follower counts is not a deciding factor to be invited to the server.
Apply Now in 3 Steps!
How to Apply:
Please read our requirements.

Answer our Google Form here:
Please Take Note:
Make sure to follow us and turn on Message Requests so that we can DM you if you get invited.

We receive all submissions. No need to DM us to ask if we received your application.

If you don't receive an invite after 6 months, you may re-apply.

After Applying
Thank you for asking to join Art Squad PH!
Again, we can't guarantee adding everyone, but as an alternative, we can give you server invites to our friends/partners that have public servers if you're interested. Just ask us for this via DMs!
How long does it take to get invited?
Unfortunately, this depends on how many people are queued and how many vouches you receive.

You can always be involved in our community through interacting with the Art Squad Twitter.

You are allowed to submit another application only after 6 months of not receiving an invite.

Getting Invited
How will I know if I'm being invited to Art Squad PH?
Our staff will DM you on the social media link you provided.

You'll be asked to confirm if you are still interested to join the server.

If you reply that you're still interested, we'll then send you the Discord link.
For your safety:
Be careful clicking links. We will only contact you using our OFFICIAL ACCOUNTS @ArtSquadPH (Twitter & Facebook) or @artsquad.ph (Instagram). If you receive instructions from another account claiming to be Art Squad PH or a representative, please report it to us. We do not use other social media accounts.
More Information
Being Filipino is not a requirement to join, but please know that we speak English and Filipino on the server. We only discourage adding foreign members to avoid people from possibly feeling left out. As a disclaimer, we can't guarantee we can translate contexts of our conversations all the time. You acknowledge that you're joining at your own discretion. We also prioritize adding Filipinos into our server as we are a Filipino Artist community, but regardless of nationality, all are welcome to apply!
Why do we ask about your country of residence?
Art Squad PH is a very close community that occasionally meets up in-person! This is so we know how many members could possibly join us in meetups, art market selling, and other events.
Things to Note:
Art Squad PH mainly caters to Digital Artists, but artists of other mediums are very much welcome in the server. Over the years we have expanded to cater to musicians, photographers, craft artists and more.

Unfortunately, we can't invite someone without enough vouches or if they don't meet the requirements.

Please don't get discouraged if you don't receive an invite after a while. There's lots of art communities out there and we all share a goal of supporting artists and helping each other grow. Keep making art!

If you have questions or suggestions regarding our Invite Queue System, please feel free to DM or Email us.

Featured Filipino Artists Twitter List
While we can't add everyone to our Discord server, we will always allow any Safe For Work (SFW) Filipino Artist to join our Official Twitter List.Note: Not everyone in our Twitter Lists are also in our Discord server.If you want to be added to this List, send us a DM saying you want to be added to the "Featured Filipino Artists" List. Being in the list doesn't make you an official member, but it can help you get more reach and you could make more contacts with other Filipino Artists. (it also means we really like your work!) :)You can also include the following in your bio: #ArtSquadPH @ArtSquadPH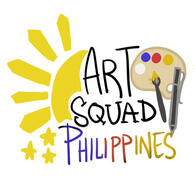 Don't DM us on Discord - The account isn't monitored.

We check Art Squad's account only during our free time. Please don't expect a reply as soon as you message us.

If something is unclear, just contact us :)
Contact
For inquiries about Art Squad PH, please contact us on Twitter or instagram.
Alternatively, you may also contact us via email.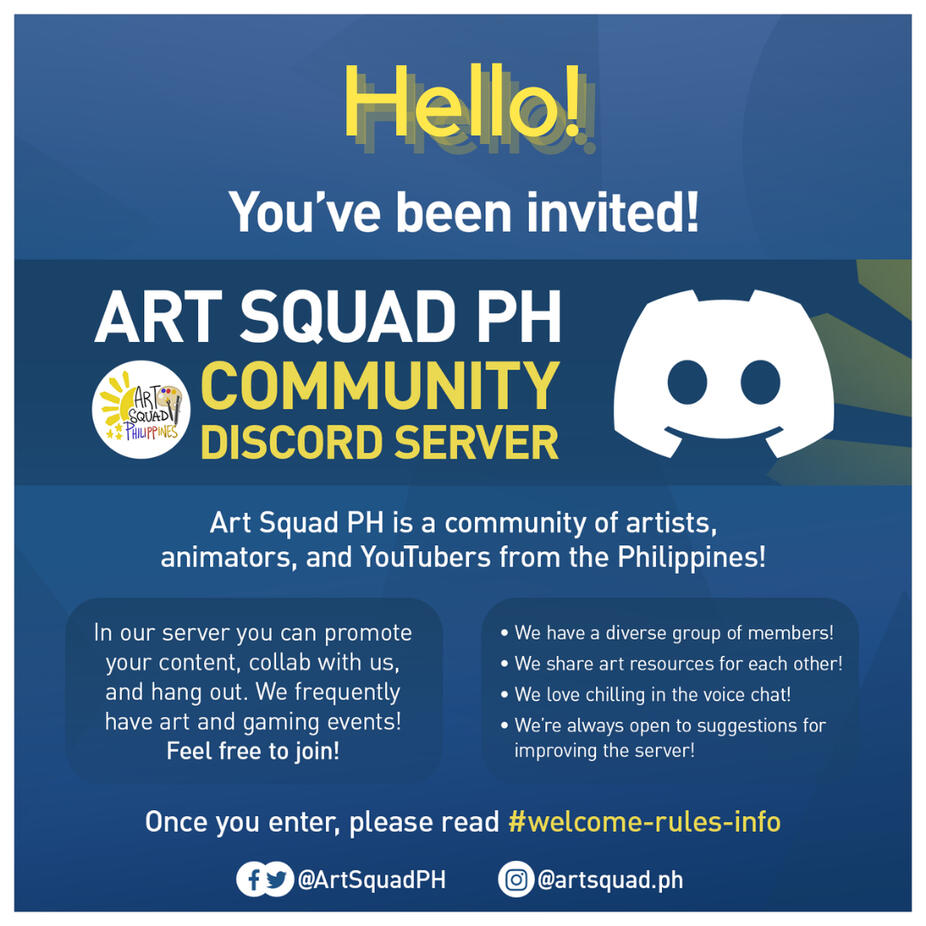 Your Entry is Confirmed
Hey Bestie! 💛💛
We're very excited to invite you to the Art Squad PH Discord server!
This is the final step.😳 Are you still interested to join our server?
We want to make sure that new members can be active & are open to making new friends and sharing their art.✅ HOW TO JOIN, IF YOU'RE STILL INTERESTED (FINAL STEP):
• Please reply back to our DM and say that you are still interested to join our Discord server.
• We will reply asap with the server invite link (ONE TIME USE).👋 What to expect in the server:
• ASPH is a very close community, so expect warm welcome messages once you enter! (and maybe some chaos)
• Use our Introductions channel to showcase your work and tell us about yourself!
• Join the voice chat if our members are active there! We're excited to meet u <3
• Please don't be shy and take your time in getting to know us!
• If you have questions/need help, just let our server members or Moderators know.
• After 30 days of settling in, the Mods will ask you to answer our New Members Survey (only takes 5 mins to answer!)🙇 We sincerely apologize for the long wait, and we understand if you decline.
• If you would like to decline the invite, simply disregard this message.
• You are given 14 days to respond to this message, then your slot will be given to the next person.To learn more about Art Squad PH, please check our home page.Salamat,
- Art Squad PH